From GrowMap.com
Every Web site owner needs to clearly understand the importance of local search engine traffic – and for those who do business in a specific geographic location – especially Local Search traffic.
Seventeen months of data for Texas Gazebo Manufacturer Golden Rule Gazebo was captured to illustrate clearly that Google has a monopoly on traffic and the importance of using Universal Business Listings to get your small business into all the tiny Local Search Directories to which you would never have manually identified and submitted.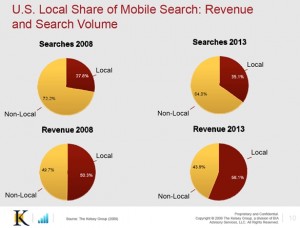 [Kelsey Group U.S. Local Share Mobile Search Revenue Volume Feb 2009 - NOTE the increases in 2013 predicted Local Related searches and revenue on Mobile Devices]
Read about the Google monopoly on local search traffic.
This first screen capture shows overall search traffic for this very small business from October 29, 2009 (when analytics were first installed on their new blog) through March 20, 2010.
Local Search Directory Referral Traffic Thanks to Universal Business Listings
During that same period of time Golden Rule Gazebo used Google AdWords to send 1,293 visitors so of the above traffic, only 765 visits were from organic searches. Note that the time period shown above does not include the most recent year.
This next information adds the most recent full year, expanding the time from October 29,2009 to March 20, 2011. You can see a screen capture of that data full size via the link below.
The Data on Local Search Traffic for Mobile is Compelling
Read More About Local Search Traffic HERE.
Want to learn more about how to get your small business found on the Internet? Contact the Internet entrepreneurs at SEED Enterprise for a detailed consultation.